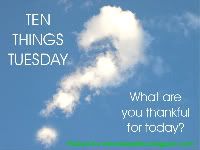 1. I have 2 sweet little girls who make me smile! I am so blessed to have them in my life!
2. Pink eye medication!!! We have been passing pink eye around in our family & it is my turn, but the drops are working!
3. My precious husband is especially wonderful this morning because he took both of the girls to school for me this morning! He always knows what I need & when I need it!
4. I am thankful for my home. I have been guilty of complaining that it is too small for us, but I have come to realize that it is perfect for us & is not just a house, but a home for our family. It keeps us protected from the weather, is a place for us to have others come over for fellowship, holds TONS of wonderful memories from the past 7 years, and every nook & cranny reflects my love for decorating!
5. The weather is BEAUTIFUL today!
6. I have beautiful flowers in every color planted in my front yard! (I need to go & water them now!)
7. Health of our family. Brandon's best friend's dad is in ICU at a hospital in Oklahoma. This has made our family stop & really be thankful for our health.
8. Brandon's sweet heart. He drove to Oklahoma City on Saturday to sit at the hospital to be with his friend and the rest of his family. It was a super long day for Brandon & I know it meant a lot to them that he cares enough to do that for them.
9. My bed. Those of you who know me well, know that I love my sleep! I love to go to bed early!!!
10. My ipod. It is my faithful friend that gets me through my daily workouts!
Go see my friend,
XBOX Wife
& see all of the other people who are joining in on Ten Things Tuesday! Go ahead & do it yourself. You'll be glad you did! You too Brandon!