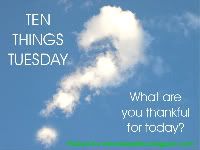 It's Tuesday! I look forward to my Ten Things Tuesday list & love to check out all of the other participants lists! Click on the cloud picture above to go to XBOX Wife's blog for all the details. I hope you will join in on the blessings from this!

1. The girls & I had our dental check-ups this afternoon & I didn't get as freaked out about the dentist visit because the girls were with me. I had to set a good example for them and not freak out, right?
2 Payton remained cavity FREE!!!!!
3. Presley remained cavity FREE!!!!!
4. I didn't have any cavities!!! I wish I could say I remained cavity free! I had three when I was a child.
5. I had a great, relaxing workout today. I love to listen to my ipod & just focus on me for the duration of the workout. I really look forward to my "me" time!
6. I was able to run a lot of errands today!
7. All of the mess from the trees blowing down is cleaned up. Brandon worked so hard cleaning everything up after the storm! Thanks for all your hard work Brandon... It looks great! Thanks to Brian too!
8. My feet are looking cute, thanks to my fresh pedicure!
9. I have a good looking, funny, smart, sweet, caring, giving, loving, six pack stomach bearing hunk of a husband to call mine!
10. The Biggest Loser finale is TONIGHT!!!!!!

Go ahead & make your list! I'd love to read it!