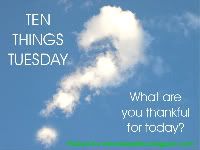 Woo Hoo! It's Tuesday again! Take a minute and go over to my friend Mrs. Brownstone @
XBOX Wife
& post your list too! You'll be glad you did!
1. I am thankful for my husband. He goes out of his way to make sure I feel loved. He is so good about sending funny & sweet email cards to me all of the time. He is also awesome about complimenting me about various things... he does this about a hundred times a day! I think the most precious thing is that he is always telling the girls that he loves me & that we are best friends. Payton & Presley always just grin when he tells them that... I think they love the security of knowing how Mommy & Daddy feel about each other.
2. I stepped out of my comfort zone and joined Shanna, Cindy & Jennifer in the Core class at the gym. I was really surprised that I got a great workout out of it! I have never been much of a class person, thinking that I was better off just doing the workout on my own. I have to admit that it was great & it was great working out with friends!
3. I just got a call that most of Payton's bedding is finished!!!
4. Presley's excitement! Presley gets to attend Kindergarten Roundup at "big kid" school today. She is so excited... Seeing this day come is bitter-sweet for me. I'm sad that she will be starting school in the Fall, but singing my praises that she is healthy and able to attend. She was such a sick little baby & at each birthday or major milestone in her life I get a little emotional. Thank you God for healing our sweet Presley and letting her live her life!
5. My family. I am truly blessed to have two beautiful little girls & my hunky husband.
6. The beautiful weather. I could just stay outside all day!
7. I am able to stay at home. I worked until Payton was 3.5 years old and it was tough. Having the chance to be there for my girls has been a wonderful experience. Even though both of the girls will be in school next year, I can continue to keep things running smoothly at home so when Brandon comes home from work he can focus all of his attention on his family instead of dealing with household chores, helping with dinner, etc.
8. Our church. Legacy has been a wonderful place to raise our children. Our family has been truly blessed the last 6 years we have been there. Looking forward to many more years to come!
9. Sugar Free Rockstar! I LOVE these... in fact, I'm drinking one right now! I think I've got Brandon hooked on them too!
10. Blogging. Blogging has been a great way to meet new people! It is also a wonderful way to record memories for your family! Love it!