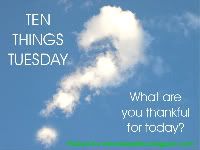 It's late, I know... It's been a fun, busy day! Go see my friend Mrs. Brownstone over at
XBOX Wife
& check out the details on how you can join in on the Ten Things Tuesday fun!
I am thankful for fun new hairdo's! I got my hair cut & colored today! I did the highlights with several different colors & went much lighter for summer! I also stepped out of the box a little and let her make my cut a little more funky!
Brandon & I have had the best time the last couple of nights playing our (the girls) new Wii Mario Kart game. We get the girls in bed & let the games begin! We have driving face offs & are VERY competitive! I won the championship last night, while he took first place the night before. I was a sore loser & threw the steering wheel down! heehee Who's going to claim the prize tonight???
Payton & Presley are lying on my bed reading together. I love it when Payton reads to her little sister... so sweet!
I am thankful that my mom came to play with the girls so that I could get out & have some me time today.
Presley had a great time at her friend, Jacey's Birthday party! She is worn out from all of the swimming! Woo hoo for an early bedtime!
We are all healthy!
I am thankful that Summer break is almost here! I love the lazy days of Summer when the girls & I don't have a schedule to stick to!
I am thankful that we had dinner on the table tonight and never have to worry about when or if we will have a next meal. This is something I take for granted & know that there are many who worry about how they are going to feed their children.
Air conditioning!! In the car & my home!!!
Friendships, old & new. We have gotten to know our new neighbors across the street and have hit it off. They are great & we have already started loaning things back & forth which is nice!