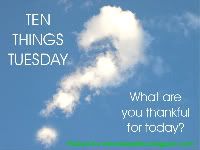 It's been a while since I've participated in Ten Things Tuesday... I'm glad I'm back!  Please click on the cloud picture above to visit my good friend, Mrs. Brownstone to see how you can participate too!
I am thankful that Miss Presley is enjoying her Kindergarten year so far!  She is still so excited that she gets to go to school everyday!
Payton is loving her time at school in 4th grade too!
We have been blessed with wonderful teachers for Payton & Presley!  They are both women who love what they do & it shows!
I am thankful for my sweet husband who works hard each day so that I can stay home and focus my attention on my children, husband and home.
I am loving the slightly cooler temperatures!  Woo Hoo!
I get to start decorating for Fall soon!  Love it!
My children are learning to be generous.  They went through their things to give away to those who are less fortunate for our Give Away Day at church.  They did this with a joyful heart & filled two big bags full of toys and clothes!
I am thankful for a healthy 6 year old well check last Friday for Presley!  There have been so many of her "well checks" and appointments that I have come home from upset because some strange, uncommon, rare condition may be affecting her...  Presley has kept us on our toes with her unheard of things that go on with her!  Woo Hoo for health!
Miss Payton does an awesome job at everything she attempts... schoolwork, soccer, piano, Battle of the Books & the list goes on and on.
Taking time to be thankful!  I often get all tangled up in the day to day activities that I forget to stop and realize all that I have to be thankful for.  Thank you Mrs. Brownstone for this wonderful activity!