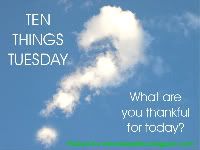 Quick list today... lots to do this afternoon!  Click on the cloud picture above to get all of the details on doing your own Ten Things Tuesday list!
I got plenty of rest last night and this morning!  I may be caught up from the busy weekend!
The amazing, perfect weather we had today!!!
A nice long walk with my dog, Maggie today!
The Diet Dr. Pepper from Sonic that I am sipping on.
Driving with the windows rolled down this afternoon!
Watching the girls crack up playing with Jack, our cat.  We got a laser light & he LOVES it!
Both of the girls said that school was GREAT today!
I will get to enjoy the beautiful weather more this evening at Payton's soccer practice.
I am having fun figuring out my new sewing machine.
My hubby just made my day with one of his sweet text messages to me!