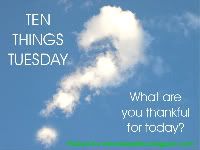 It seems like forever since I've participated in Ten Things Tuesday!  Click on the cloud picture above to find out how you can do Ten Things Tuesday too!  I'd love to see what you're thankful for!
1.  making blueberry muffins with Presley after school today
2.  seeing Payton & Presley snuggling together this morning
3.  that my friend Deanna has a blog now!!!!!
4.  my incredible husband
5.  my beautiful daughters
6.  Diet Mt. Dew
7.  getting the chance to finish a craft project today
8.  the beautiful weather today
9.  great friends
10. good smelling candles
Short and sweet this week!