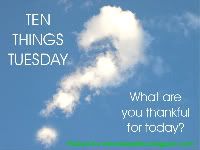 1. As of this afternoon, we have a brand new fence in our backyard!!!
2. I'm thankful that Brandon doesn't have to repair holes daily on the old fence anymore to keep our dog in the yard. Maggie & Baxter (her boyfriend dog in the yard behind us) really love each other!
3. We got Payton's TAKS scores back & she didn't miss any!!!
4. Presley finally scored her first goal (actually 3) at her soccer game on Saturday! She was really proud of herself!
5. Everyone in our family is well.
6. Neither one of the girls got pink eye from us!
7. Payton is getting custom bedding, pillows & curtains made for her room. I finally made a decision on all of the fabrics today!!!
8. I took a day off from working out today & am not feeling to guilty about it.
9. I already know what we're having for dinner tonight!
10. My favorite show, The Biggest Loser is on tonight!!!
I strongly encourage all of my readers (all 5 of you) to participate in Ten Things Tuesdays that my friend
XBOX Wife
hosts! Click on the cloud button above for more information!