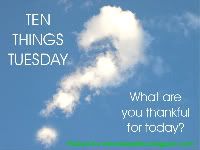 It's time for Ten Things Tuesday! Click on the cloud picture above to visit
XBOX Wife's
site to see how to join in on the fun!
1. I am feeling better after a long weekend of being sick.
2. Payton came home feeling really good about the Math TAKS test she took today.
3. Friends. I have some wonderful friends that I know would be there in a snap if I really needed them.
4. I am thankful that Presley has the gift of singing. Her preschool music teacher told me today that Presley can really sing... on pitch & everything!
5. I have some new songs on my ipod! It is nice to hear something new during my workouts!
6. I am thankful for clean teeth. I had my 6 month dental cleaning today and although I hate it when it's happening, I am loving my fresh clean smooth teeth now!
7. The beautiful day we are having today! I started the sprinkler this afternoon to water our fresh new sod & had to stay outside for a little while!
8. I am thankful for a clean car. I am the world's worst about letting my car get a little nasty with all of the kiddo's things & neglecting to clean the inside out and wash the outside. Presley & I got out the cleaner and rags and went to town on the inside yesterday. We vacuumed the inside and everything! We'll today we ran it through the car wash! Brandon will be soooo proud of us!
9. My Macbook. I wouldn't get to do all of this fun blogging stuff without it. Okay, I would with a different computer, but I LOVE my Macbook with the cute hot pink cover!
10. My family. I know I list this one almost every time, but I am so truly blessed to have a wonderful supportive husband and two precious little girls!