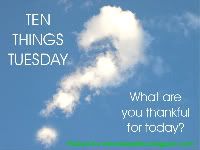 Tuesday is here already! Wow, that was a fast week. Click on the cloud picture above to go to my friend, Mrs. Brownstone's blog to get all of the details on how to join in on Ten Things Tuesday!
The health of my children & husband. I have been praying for a little boy who was run over by a car in his driveway a couple of days ago & have been hugging my girls a little extra since I heard the news of this accident.
The rain. I love the sound of the rain hitting my windows. I also love that I don't have to water the grass & flowers today!
I am thankful for Brandon's business. God opened doors at the right time for Brandon to start his business. Thank you Brandon for working so hard to provide for your family!
Payton's sweet smile when I surprised her by going to her school to meet her for lunch! Her reaction totally made my day!
Circle of Friends Preschool. Both of my girls have enjoyed learning there & I'm sad to say that this Presley's last year to attend.

My car. This morning while taking Payton to school, I noticed a woman riding her bike in the pouring down rain. I see her every morning riding to McDonald's, where she works. Just then I realized that I have been taking my vehicle for granted for a long time.
My gym. I have a beautiful place to workout that has every piece of equipment imaginable, a clean childcare center with friendly staff who know Presley by name, and a wonderful outside pool that is now officially OPEN!!!
Our home. Brandon & I were looking at huge houses online last night just for fun & Payton walked in and noticed what we were looking at and got upset & said, but I don't want to move. I love my home. We all really love our cozy little home. We have filled it with so many memories & I think we are all attached to it!
I am thankful that I have kept losing weight after I hit lifetime status. I was so afraid that I would get lazy & the pounds would slowly creep back up, but I've not only maintained... I've lost more!
Presley came home from school sooooo excited about her preschool graduation! She will be be graduating on Thursday evening!