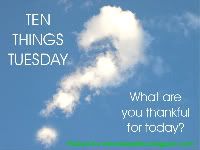 It's time once again for Ten Things Tuesday! This list has a lot to do with Mother's Day! Click on the cloud picture above to go to my friend, Mrs. Brownstone's site for all of the details on how you can join in on all of the Ten Things fun!

Mother's Day was great! We went to church, took my mom out for lunch, I got to take a nap & then we met my sister and her family at my mom's house to give her her presents. We each got her a white wooden rocking chair for her front porch! She loved them! We then made a nice dinner & all picked a bazillion weeds in her front yard for her!

Both of my girls woke up, made their beds, brushed their teeth, fed the pets & got ready for school without me asking them to do one thing! WOO HOO!!!!!!!!!!
I had a terrific Mother's Day! Presley woke me up bright & early to give me her present she made me. It was this:
Payton gave me her Mother's Day present. It was a beautiful card with flowers that you pick & on the back is a kind thing that she will do for me. I get to pick one each day!!! The inside had a sweet poem. I also got a Woman of the Year Award from her. I got really teary eyed reading it!
Brandon surprised me at the gym today! He came up behind me & scared me! It was a nice treat to get to see him in the middle of the day!
Presley had a great party day at school today! She came home with lots & lots of fun things. Her two favorite were the pool floatie & the beach ball. She hasn't let go of either of them all evening! She's too cute... I just had to take her picture!
My house is clean & all of my laundry is done!
Payton came home from school today with this award!!!! Way to go Payton! She won this award in 1st Grade & now again in 3rd Grade! I'm really proud of you Payton!
I finally got my rear in gear & went to go get my tag renewed. It expired in April & I have been really nervous each time I see a friendly police officer!!! I won't have to break a sweat & say a prayer each time I see a cop from now on! I can just smile!
Last, but certainly not least... My hilarious hubby... He made a mad dash on Sunday afternoon to get me a Mother's Day card. I guess he was feeling guilty or something??? Anyway, as I was reading the card I started cracking up & laughing out loud. It was my ugly laugh, my laugh when something is REALLY funny. Brandon kept looking at me like "What are you laughing at? I didn't write anything funny." I read all of the sweetness & got to the bottom & it said

HAPPY BIRTHDAY

at the bottom! I know he just grabbed a card that looked pretty & didn't even read one word of it! After I showed it to him, he turned bright red & grabbed a marker & marked out Birthday and wrote Mother's Day! Men??? Hmm..... I guess it's the thought that counts!!!
Yes, I am thankful for my husband who was sweet enough to make a special trip to get me a "Birthday Card"!