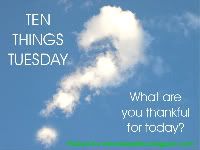 I didn't get a chance to do my ten things last week, but made a point to make time for it today!  Visit
XBOX Wife
 to see how you can get started making a Ten Things Tuesday list too!
I am thankful for Children's Motrin which is helping Miss Presley's arm feel better.
I am also thankful that she only got up once last night with pain in her arm.  A MUCH better night's sleep than the night before!!!
My mom came by to watch the girls so that I could go work out & run a few errands.  I had major cabin fever & felt bad about Presley having to go to the child care center at the gym if she was hurting.
I am thankful for my girls creative minds... I got home this afternoon to find a huge fort built in our family room.  They used chairs, barstools & about a bazillion blankets to make it.  Their Nana said that they played in it for a long time!
Diet Mt. Dew... I really think that I'm addicted to this stuff!  I finished off the last can this morning.  Gonna have to make another caffeine run!
The health of my family.  I know I list this one all the time, but we are very fortunate to have skipped the many illnesses that have been spreading around.
Our church... I am so thankful that we have a place so wonderful for our family.  My girls were so exited that it was promotion Sunday & they got to move up to their next grade Bible class!  I was also excited that I got to go to "big people class" again after 3 months of teaching the little ones!
Yummy oatmeal raisin cookies!!!  I made a homemade batch last night and my family has inhaled them!  I think Brandon ate at least 2 dozen last night by himself... & I was feeling bad about eating two!
I have had a productive morning.  I woke up refreshed since Presley slept well last night.  I have my workout over with, laundry done, beds made, & the house is clean!
I am thankful that I get to spend the rest of my day chilling out & relaxing!