Presley & her sweet cousin Carly!
They have had a GREAT time playing together today!!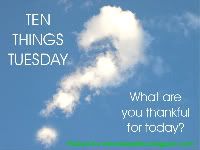 It's Tuesday & time for Ten Things Tuesday! Go see my friend, Mrs. Brownstone at XBOX Wife to find out how you can participate too!!
For Payton having a wonderful experience at camp this week!
Presley & her cousin Carly are getting to spend the day playing together today. They don't get to see each other very often & we are thrilled that Carly is spending the day with us!
Sleeping in! Presley & I slept until 9:00 this morning! She crawled into my bed when she woke up this morning and we just snuggled in the quiet of the morning. Brandon had already left for work.

Old & new friends. Both are a blessing to me!
New vehicles! Brandon said that a brand spankin' new Tahoe is in the works for me this week!!! My Tahoe that I have now is only 5 years old, but it will be soooo nice having a brand new one!
My husband... All I can say is I LOVE that man!
The one on one time that I've got to spend with Presley this week. It has been so special!
The lazy days of summer! We may not even leave the house today!
My grass in the front yard looks beautiful! We put in sod earlier in the summer & it has really done well.
I'm thankful that I get to see my sweet Payton on Friday!!!