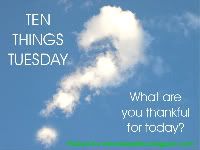 1. The girls are getting their hair cut today after school! Woo Hoo for cute & fun hairdo's!
2. I have an ice cold Sonic Diet Dr. Pepper sitting right beside me!
3. Brandon canceled his night class tonight... pink eye AGAIN is the reason he's home, but at least he's home!
4. My show, The Biggest Loser, is on tonight!!!
5. I got in a good workout even though I have the crud & don't feel that good.
6. Presley said she had the "best day ever" at school today!
7. I tried on a dress at Steinmart today & was shocked at the size it was! A good shocked!
8. My girls do not have pinkeye or the crud.
9. It's a warm day.
10. I came home & my cat had pooped on the floor... I'm not thankful for that. I am thankful that it is not because he has suddenly decided he doesn't like his litter box. It is because Presley had locked the cat door on the laundry room! He is now using his litter box nicely again.
Be sure to visit
X-Box Wife
& post your link so that others can find your list! Have a great Tuesday!